Emotional Eating, Out of Control Eating, Compulsive Eating, Binge Eating…
Call it what you want but the similarity is — consistently eating…..but not due to physical hunger. Rather, it is eating for all other reasons: food availability, bad mood, social situations, not preparing meals, stress, co-workers bring food to the office.  Most people do this from time to time, but when it becomes consistent, persistent, and causes distress, it is time to seek help.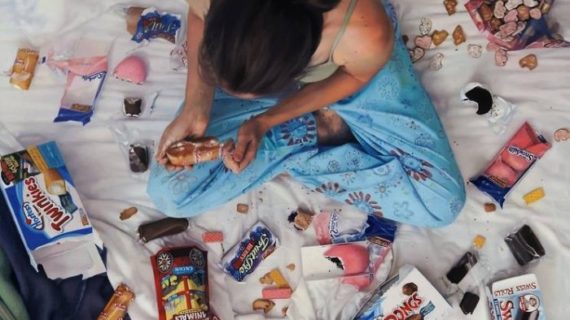 This group is for people who identify with one or more of the following:
Binge eat or emotionally eat

Have difficulty with weight management

Need structure to increase healthy eating

Consider having or who have had bariatric surgery and are seeking help with the behavioral and lifestyle changes.
The media promotes lots of quick fixes and fad diets. Although these may work in the short term, they generally do not result in long term weight management, and many of them are unhealthy approaches that can have dangerous or weight re-gain effects. Further, many people begin to binge eat after a period of unhealthy food restriction as these diets promote an "on again, off again" pattern. 
Slowly changing life-long patterns helps ensure that old, unhealthy eating habits do not creep back up. Weigh 2 Eat guides patients in the important behaviors associated with binge eating, emotional eating, and/or long-term weight management. The Weigh 2 Eat program focuses on cognitive-behavioral strategies for eating and weight management. 
Our Director, Dr. Shapiro has been facilitating these programs since 1999 at various institutions including the University at Albany, State University of New York; Duke University Medical Center, Structure House, Inc. and the University of North Carolina at Chapel Hill.  She is known for her expertise in this area and has trained other providers in offering such a program. She continuously updates and improves her program based on the current cutting-edge research.
Groups contain about 12 people and are facilitated by Dr. Shapiro.
Meetings: 16 weekly sessions over 4 months. Each session is 1 hour per week. Each week includes a new daily topic related to emotional eating and successful weight control. Daytime and Evening groups available.
Fee: Insurance typically covers most of the program. Discounted self-pay rate offered to those without insurance.
Topics include:
Balanced and Healthy Diet

Lifestyle Activity and Exercise

Mood and Food

Emotional Eating

Binge Eating

Restaurant Eating

Meal Planning

Managing Cravings

Mindful Eating

Triggers and Cues to Eating

Overcoming Obstacles

Goal Setting

Time Management

Weight Maintenance for Long Term Success …..and more
Check with your physician before starting any weight control program.
For more information email: [email protected]