Avoidant/Restrictive Food Intake Disorder
Avoidant/Restrictive Food Intake Disorder
ARFID recently became recognized as its own eating disorder category.   These are people who avoid certain foods due to factors such as 1) color, texture, or taste, 2)  pain/digestive problems; 3) not feeling hungry; 4) fear of choking or vomiting.  Symptoms of ARFID typically show up in infancy or childhood, but they may also present or persist into adulthood.  This may result in inadequate nutrition and/or growth, as well as in problems at school or work (e.g., avoiding work lunches, not getting schoolwork done because of the time it takes to eat, avoiding seeing friends or family at social events where food is present).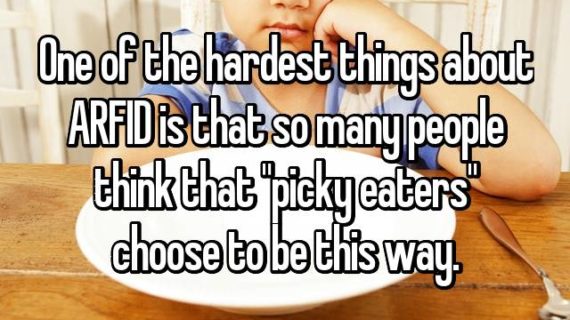 Diagnostic Criteria for ARFID (Based on the DSM-V)
An eating or feeding disturbance (e.g., apparent lack of interest in eating or food; avoidance based on the sensory characteristics of food; concern about aversive consequences of eating) as manifested by persistent failure to meet appropriate nutritional and/or energy needs associated with one (or more) of the following:
Significant weight loss (or failure to achieve expected weight gain or faltering growth in children).
Significant nutritional deficiency.
Dependence on enteral feeding or oral nutritional supplements.
Marked interference with psychosocial functioning.
The disturbance is not better explained by lack of available food or by an associated culturally sanctioned practice.
The eating disturbance does not occur exclusively during the course of anorexia nervosa or bulimia nervosa and there is no evidence of a disturbance in the way in which one's body weight or shape is experienced.
The eating disturbance is not attributable to a concurrent medical condition or not better explained by another mental disorder. When the eating disturbance occurs in the context of another condition or disorder, the severity of the eating disturbance exceeds that routinely associated with the condition or disorder and warrants additional clinical attention.